Latest Research
Mechanics hidden in complex life phenomena
PROFESSOR. Shinji Deguchi
March 1, 2021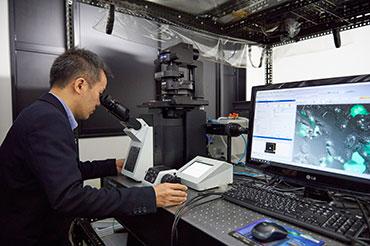 Our lab has "Find Mechanics in Life" as its catchphrase.
I was in the field of aerodynamics research until my master's program at the graduate school. It was from the doctoral program that I moved to biological research.
If you think of cells, which are the basic units of living things, as one building, what kind of structure corresponds to columns and beams, and what kind of rules determine their size, strength, and arrangement? There are many problems that require a mechanical perspective to understand. While we emphasize molecular biological methods and ideas that can elucidate the functions of individual proteins and genes which correspond to building components, we also think that it may be difficult to understand the mechanism that governs the entire building only by the way of thinking.
If a car bumper gets scratched, it cannot be fixed unless you bring it to a repair shop, but if a human is scratched, it will heal after a few days. We are interested in research on the self-repair mechanism of living things, especially the mechanism that applies well even if the surrounding environment changes. This is a characteristic of living things that is different from man-made objects.
I think that mechanics, such as thermodynamics, mechanical dynamics, fluid mechanics, and material mechanics, is an important means and an important viewpoint in unraveling it. For example, there is a mechanism called homeostasis in which cells always try to maintain a constant internal structure despite changes in the outside world, but in order to understand this, a method of interpreting based on mechanics is indispensable. However, since the explanation may become abstract and conceptual by itself, we also emphasize clarifying the actual state of the molecule that is responsible for the mechanism.
Therefore, in my laboratory, we are trying to understand a part of very complicated life phenomena by mobilizing all the methods of different fields such as molecular biology and information science while focusing on mechanics. The research results obtained in this way are continuously presented and opinions are received in both groups of the applied mechanics and the molecular biology, which are communities with considerably different ideas and values. Being able to bridge the boundaries of fields beyond conventional mechanical research and biological research is one of the unique strengths and interesting points of this laboratory, and it is also an aspect of the School of Engineering Science.
The process of our research is to deductively interpret from the principle of mechanics and attempt to objectify a part of the mechanism that works by trial and error to find facts inductively from very complicated things and that seems to be the fact. I think that the experience gained in our research process will be a good training for students to nurture their abilities that will surely be important when living in a complex and information-overloaded society.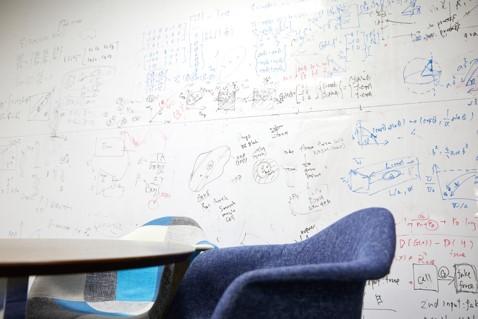 Reading the cell power in an interdisciplinary way
Since the 1980s, aerodynamic researchers, mainly in the United States, have entered the field of biomechanics research, and the trend toward understanding life systems from a mechanical perspective has begun to grow. Since the beginning of the 2000s, a notable paper has been published that the "power" supported by cells is also involved in the fate determination of what kind of cells "Mesenchymal" stem cells, which have been attracting attention in regenerative medicine, will differentiate into. In an environment where the surrounding objects are hard and stem cells tend to exert a large force, they tend to become bone cells. On the contrary, it was found that in an environment where the surrounding objects are soft and cannot support much force, they tend to become nerve cells.
Measuring the force that influences the fate of cells is directly linked to the understanding of the mechanism of cell environmental adaptation mentioned above. In the current situation, the development of various measurement technologies has made it possible to investigate some of the properties related to genes and proteins very quickly and in large quantities. However, it was difficult to measure the force exerted by each cell, and the efficiency of collecting data was also inefficient.
Under these circumstances, we have developed a method that can measure the force by the wrinkles that cells make on surrounding objects. Imagine cells sitting on a tablecloth. When the cells exert force and shrink tightly, they cause wrinkles on the tablecloth. This is a method of measuring the cell power from the appearance of the wrinkles. From the images of wrinkles and cells observed under microscope, it is now possible to extract data: "they are exerting this much force when such wrinkles are formed", by using mechanical analysis and information science technology together.
From basic to applied
The power measurement technology we are developing has significantly improved data accuracy and acquisition efficiency compared to conventional methods. It is attracting attention as a convenient tool in the field of basic research in biology, and we are collaborating with medical and science researchers.
We believe that this technology will also be useful for efficient drug development. The "power" generated by individual cells is also involved in disease. For example, hypertension and asthma are associated with the large contractile force of smooth muscle cells that make up blood vessels and tracheas, respectively. In addition, it is becoming clear that there is a close relationship between the development of various diseases such as cancer and the power exerted by cells. We hope that we can speed up the development of related drugs if we can more efficiently find out what kind of drug is added to change the cell power using our technology.